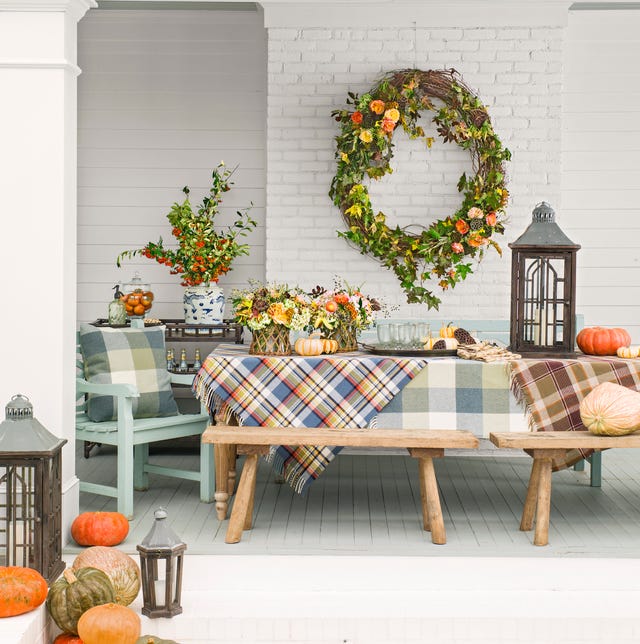 Helen Norman
While you're thinking of ways to make your space more cozy for the fall season, don't forget to bring the same level of attention to your dinner table, especially if you love to entertain. Earthy hues, layers of texture, and assortments of delicious apples, vibrant pumpkins, or elegant candles are all fair game when it comes to autumn-inspired table arrangements. Browse 25+ of our favorite fall centerpieces for a stylish dinner.
1 of 26
Pumpkin Vase
Rather than settle for a traditional vase, make one out of a basic gourd. Try enhancing it with gold studs for a trendy look.
2 of 26
"Fireflies" in Mason Jars
3 of 26
Leaves Galore
There's nothing quite like a walk on a crisp fall day to enjoy the changing leaves. Bring the same vibe to your home with a faux leaf centerpiece filled with all of autumn's gorgeous hues.
4 of 26
Flowers and Acorns
For a no-fuss yet stylish look, add decorative acorns (or real ones) to any vase and let them serve as the base for a lovely bouquet.
5 of 26
Moody Hues
You can never go wrong with a combination of greenery and candles, especially when you stick to autumn-inspired colors ranging from rich reds to greens.
6 of 26
Flowers and Pumpkins
Hot glue vibrant faux flowers on a bright orange pumpkin to add a wow-factor to your table. You can add smaller pumpkin vases to complete your look.
7 of 26
Pops of Plaid
Plaid decorative accents are the perfect foundation for sunflowers and pumpkins.
8 of 26
Classic Fall
If you can't pick just one theme, add all of fall's best trends — including plaid, lanterns, pumpkins, flowers, and pinecones — to your table.
9 of 26
Pumpkin Pots
Turn mini pumpkins into pots to show off your favorite blooms, like dahlias, ranunculuses, and mums. To make them, carve your mini pumpkins as you normally would. Then, cut the bottom of a water bottle and slide them right inside the pumpkins, so they function as vases.
10 of 26
Salvaged Centerpiece
There's no reason why collectibles, like salvaged shredders, shouldn't be part of your dinner table arrangement. When placed alongside votive candles, they're brilliant for adding charm to a fall table.
13 of 26
Apples, Candles & Potted Plants
For an outdoor dinner party, go for a mix of potted plants along with apples and candles wrapped in greenery.
17 of 26
"Give Thanks" Sign
Take a cue from Keys to Inspiration and corral your favorite decorative accents, like gold signage, plants, and a white wooden pumpkin, into a sleek tray.
19 of 26
Gooseberries
There's beauty in simplicity, and a tall arrangement of gooseberries is proof.
20 of 26
Succulent Centerpiece
Why not use a pumpkin as a vase? Fill it with succulents of your choice for a fun and unexpected display.
21 of 26
Berry Wreath
Follow the "less is more" approach by letting an understated berry wreath take center stage on your fall table.
22 of 26
Pumpkin Assortment
Set a cheery mix of pumpkins and gourds in an elevated bowl for a no-fail fall centerpiece.
23 of 26
Textured Beauty
Fill a long wooden tray with a festive medley of gourds, acorns, berry branches, and moss balls.
24 of 26
Autumn Candelabra
A candelabra is one of the easiest ways to add a sophisticated flair to an autumn dinner table. Rest one on a bed of berry branches to make even more of an impact.
25 of 26
Fall Foliage
Gather lush greenery, faux lemons, artichokes, and berries to make an Instagram-worthy fall centerpiece.
26 of 26
Pumpkins and Oranges
Mini white pumpkins and orange slices add contrast to a long wooden tray—the perfect fall table setup.
Advertisement – Continue Reading Below
This content is created and maintained by a third party, and imported onto this page to help users provide their email addresses. You may be able to find more information about this and similar content at piano.io
This commenting section is created and maintained by a third party, and imported onto this page. You may be able to find more information on their web site.